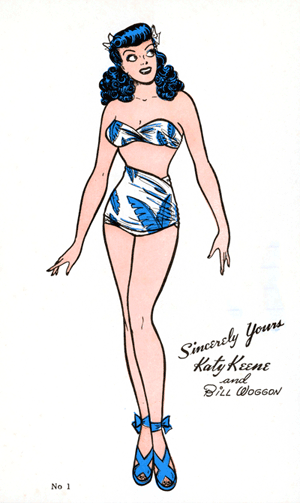 But now, as she launches into her golden years, there are signs that Katy is set for another revival: each day more fan sites pop up, the E-Bay price of old issues of Katy Keene rises and Woggon's grandson, Jerico, has launched a web site (cherrymeltdown.com), along with his own art career. And according to Jerico, modern audiences have a lot to learn from the 1950s icon, "From Katy, people can re-connect with a sophisticated woman with old-fashioned values and etiquette. Reading Katy, it's like immersing yourself in the good old days, and the way things were." As nostalgia for the last century's fashions continues to soar and rumours of a Katy Keene movie fly, the time seems ripe for "America's Dream Girl" to finally reclaim the national stage.

MY DAD DRAWS ALL DAY

But behind every great comic book character, is a great cartoonist. So, who was Bill Woggon and how did a Christian, family man from the Midwest so successfully capture the fantasies of a fashion-obsessed 1950s teen-ager? The answer is that Bill Woggon's life, like that of so many of us, was filled with many quirky idosyncracies and ironies. To begin to understand the extent of his dualistic life, first imagine his art studio during the Katy Keene years. From inside a small, converted horse stable set amid the stunning foothills of Santa Barbara County on Woggon Wheel Ranch, Woggon created a parade of colorful, glamorous fashion designs. As Woggon's daughter Susie Bothke remembers, the studio "was not real advanced by modern standards. There was a drawing board for dad and each of his assistants, and filing cabinets. He kept clippings for ideas. There was something to hold pens or pencils in. And there was all that [necessary cartoonist] stuff: rubber cement and erasers. It was a working place." For Woggon, there was no aparent clash between the fashion-filled extravagance of Katy's life and the rough texture of his art studio, just as there seemed nothing odd about his religious beliefs and subject matter, age versus the age of his audience, or his choice to work as a full-time artist and cartoonist.

His family seems to have accepted all of his quirks and habits without question. After all, that was just Dad. For Woggon's children, Susie Bothke and Bill Woggon, Jr., they grew up thinking that Dad's job as a full-time cartoonist was normal. There's even a special Woggon family legend that backs this notion up. As Bill Woggon, Jr. said, "During show and tell in second grade, I was asked what my dad did for a living. I remember saying that my dad just sits at home and draws." It wasn't until Katy Keene enjoyed a nostalgic re-emergence in the 1970s that Woggon's son realized the extent of his father's influence and popularity. For daughter, Susie, the recognition of her dad's achievements came when he was honored in at the San Diego Comic Convention, the comic book industry's largest annual gathering and pow wow . There, as people clamored to get her autograph after finding out that she was the inspiration for the "Sis the Candy Kid" character, Bothke realized how many people had been touched by her father. Still, despite his massive contributions to the world of cartoon art, it is Bill Woggon's spirit, not Katy Keene, that burns deepest in their memories of Susie, Bill, Jr., and Jerico. As Bothke remembers, "He was a comfortable person for everyone to be with. He was stable. [He liked] including us as a family. He would bring out the best thought about each person." Bill Woggon may not have been as glamorous as Katy Keene, but his spirit showed a depth and sincerity lacking in today's society. Hey, there's the perfect idea for the next succesful comic book: it could feature a super hero named Bill Woggon, otherwise known as Humble Man. Think it could fly?